Bridesmaid jewelry, Gold circles necklace, delicate dainty minimalist necklace, seven gold circles necklace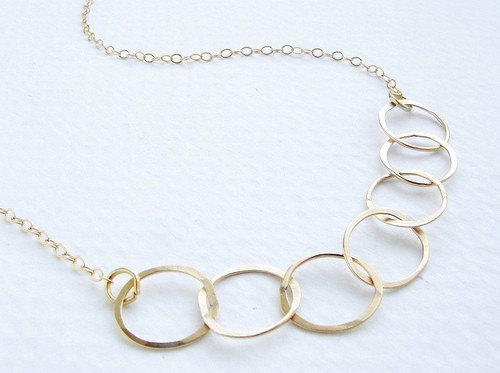 Bridesmaid jewelry, Gold circles necklace, delicate dainty minimalist necklace, seven gold circles necklace
Bridesmaid jewelry gold links hand hammered delicate dainty everyday

Seven hammered gold circles are interlinked and connected to delicate 14kt gold filled chain. Lovely and simple for the everyday wear. Approx. 16 inches long.
Need it in sterling silver? Find it in my shop here:
https://www.etsy.com/listing/104536547/silver-circles-necklace-hammered

Note: Gold-filled is defined as a layer of 10kt or better gold mechanically bonded under heat and pressure to another metal, then rolled or drawn to a given thickness. The quantity of the gold must be at least 1/20th of the item's total weight. The item must be marked as 10, 12 or 14kt gold-filled. Gold-filled is much thicker than gold plated, and gold-filled items are generally considered lifetime products.